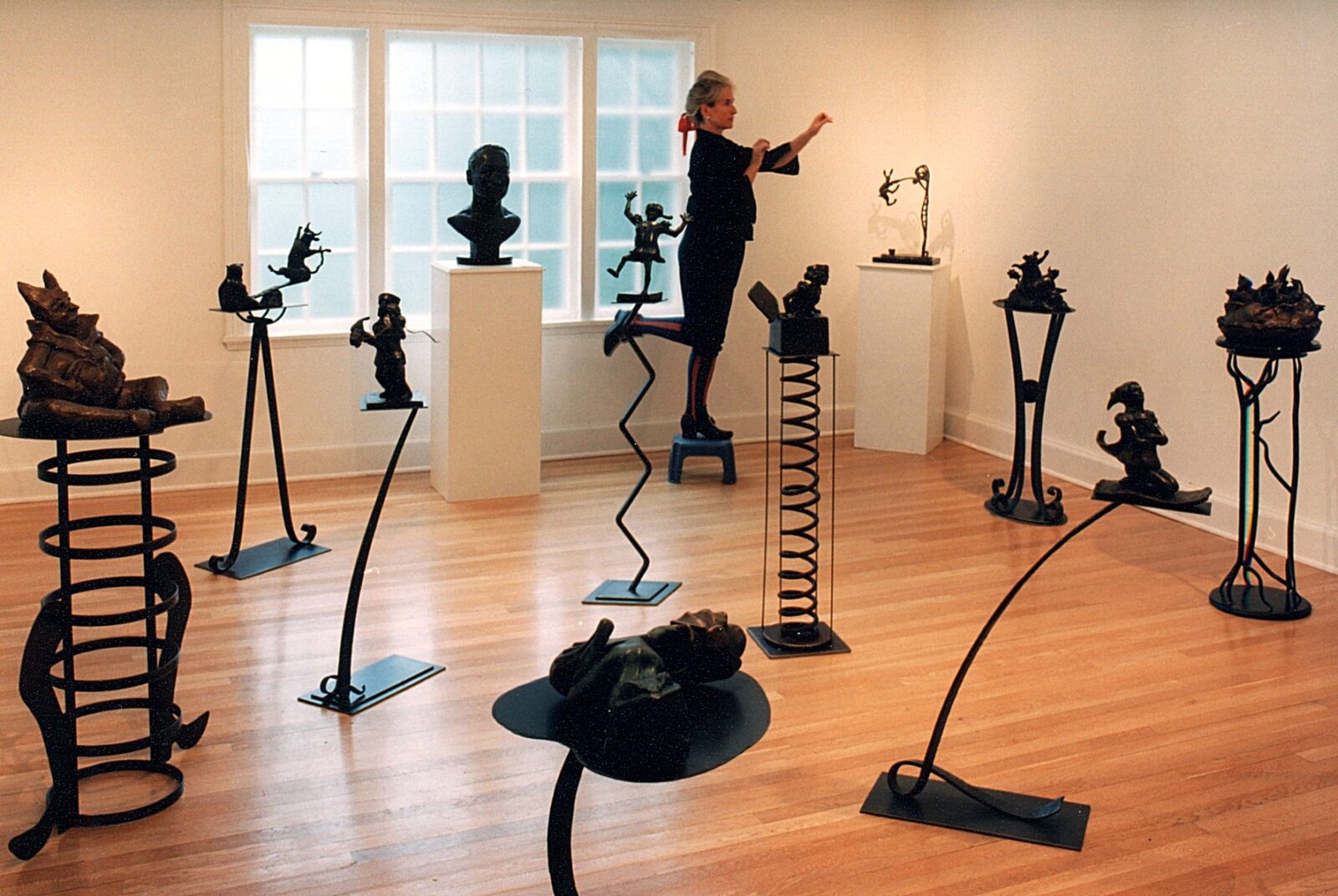 SUSAN READ CRONIN ARTIST HONORED TODAY
May I share with you a revered artist, Susan Read Cronin.  She was educated at The Madeira School in McLean, VA, and received a BA from Williams College, in Williamstown, MA, where she developed her passion for art and design. Cronin studied in the early 1990's with renowned sculptors Jane B. Armstrong and Walter Matia. Having spent most of her artistic career in Vermont, she has recently relocated to Santa Barbara, California.
A show titiled Fables, Foibles and Fairytales, has traveled to eighteen museums around the country.  She has had many solo exhibitions of her work at the Harrison Gallery in Williamstown, MA, The Southern Vermont Arts Center in Manchester, VT, The Carving Studio & Sculpture Center in West Rutland, VT, The Williams Club in New York City, Visions West Galleries in Denver, CO, Artisan Designs & Gallery 2 in Brattleboro, VT and Tilting at Windmills Gallery, located in Manchester, VT.
Her work has also been featured at the prestigious Copley Society of Boston, where she is a Copley Artist member, and in group shows at the National Sculpture Society based in New York City, as well as at Hunter Kirkland Contemporary in Santa Fe.
Susan Read Cronin's bronzes are held in numerous private and public collections including The Erie Art Museum, Erie, Pennsylvania, Southern Vermont Arts Center, Manchester, Vermont, The Madeira School in McLean, Virginia, The Naples Beach Hotel and Golf Club, located in Naples, Florida, and The Williamstown Youth Center in Williamstown, Massachusetts. One of her 6′ elephants balancing on a wheel was installed in the fall of 2013 at Johnson State College in Johnson, Vermont and number two of the edition was unveiled in 2014 at the Brattleboro Retreat, in Brattleboro, Vermont. Continuing to populate the Retreat campus with elephants, last year, Cronin installed a 7′ version of "XXO" there.
I have represented Susie's work for almost 20 years and enjoyed every piece.  She has lifted many the spirit of many who view and enjoy the humor in her imagination and creations.  She is a gift.  Following is a link to her website page, where there are many rabbit pieces for your collection.
SADLY WE REMAIN CLOSED TO VISITORS. The few weeks ahead will be the hardest but worth it. We do not wish to do this again.
Please call for virtual tours and simple questions.
Thank you and be well.   Terry
Contact Us
Email
tilting@tilting.com
Phone
802-362-3022
Address
24 Highland Ave
Manchester Center, VT 05255