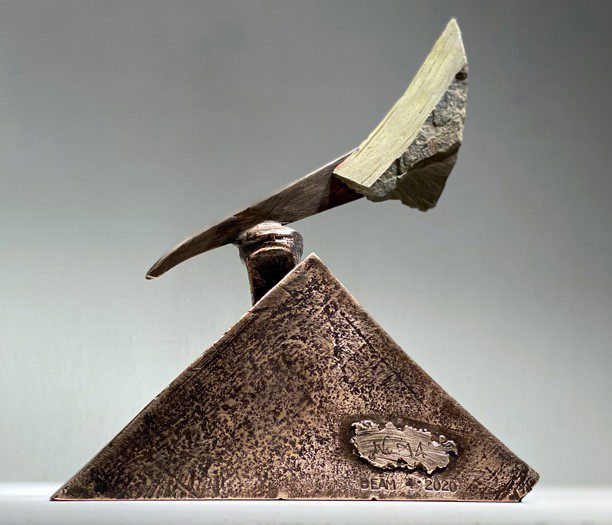 John Van Alstine is on the blog today!!!
John and his wife are fortunate to have wonderful property to shelter in place while each being a productive artist.  They consider the situation as almost an "artist's retreat" – where an artist might go to isolate themselves from the rest of the world and work without interruption (and not distracted- if you keep the News and media off …)!
John embarked on a new bronze  "self-distancing" / Covid series, trying to incorporate some of the themes he has worked on for many years (like the "myth of Sisyphus"). His goal was to bring meaning and an artist voice to these very unusual times. He ponders many artists in the past that were able to use dangerous and uncertain times to spur on their creativity (Shakespeare during the black plague, artists during the 1918 Spanish Flu pandemic like Gustav Klimt and Egon Schiele, and many others who were faced with Nazism or the great depression, or even the McCarthy era in the 1950's).
John is highly collected and his work is admired world wide. Following are several insightful videos for those who care to learn more. The first is a recording of the installation of PORTAL in the front of Tilting.
Plus more videos to learn about the art and artist!
IN THE COLLECTIONS OF THE FOLLOWING:
PUBLIC COLLECTIONS (SELECTED)
                ALBANY INSTITUTE OF ART and HISTORY, Albany, NY
                AMERICAN UNIVERSITY MUSEUM OF ART; Corcoran Legacy Collection, Washington, DC
BALTIMORE MUSEUM OF ART, Baltimore, MD
BIOETHICS INSTITUTE, Johns Hopkins University, Baltimore, MD
                BLANTON MUSEUM OF ART, University of Texas. Austin
                CITY OF BEIJING, CHINA, 2008 Olympic Park Exhibition Collection, Beijing
                CARNEGIE INSTITUTE OF ART, Pittsburgh, PA
                CORCORAN GALLERY OF ART, Washington, DC
                CHAUTAUQUA INSTITUTE, Fowler-Kellogg Art Center, Chautauqua, NY
                DAYTON ART INSTITUTE, Dayton, OH
DALLAS MUSEUM OF ART, Dallas, TX
                DELAWARE MUSEUM OF ART, Wilmington, DE
                DENVER ART MUSEUM, Denver, CO, Gift of List Foundation, New York
                MR. & MRS. ROBERT LEVI FOUNDATION, Baltimore, MD
                GROUNDS FOR SCULPTURE, Hamilton, NJ
                HIRSHHORN MUSEUM AND SCULPTURE GARDEN, Smithsonian Institution, Washington, DC
                THE MUSEUM OF FINE ARTS, HOUSTON, Houston, TX
                HERBERT F. JOHNSON MUSEUM OF ART, Cornell University, Ithaca, NY
NATIONAL MUSEUM OF AMERICAN ART, Smithsonian Institution, Washington, DC
                FEDERAL RESERVE BOARD, Washington, DC
                NEWARK MUSEUM OF ART, Newark, NJ
MUSEUM OF MODERN ART, GULBENKIAN FOUNDATION, Lisbon, Portugal
                PHOENIX ART MUSEUM, Phoenix, AZ
                THE ADIRONDACK MUSEUM, Blue Mountain Lake, NY
                THE PHILLIPS COLLECTION, Washington, DC
                TSINGHUA UNIVERSITY MUSEUM, Beijing, China
U.S. STATE DEPARTMENT, Art in Embassies / Bolivian Embassy and Chilean Embassy, Washington, DC,  Jamaican Embassy, Kingston, Jamaica,   Nepal Embassy, Katmandu,
 
SOON THE DOORS WILL OPEN AGAIN.  STAY TUNED.
Please call for virtual tours and simple questions.
Thank you and be well.   Terry
Contact Us
Email
tilting@tilting.com
Phone
802-362-3022
Address
24 Highland Ave
Manchester Center, VT 05255