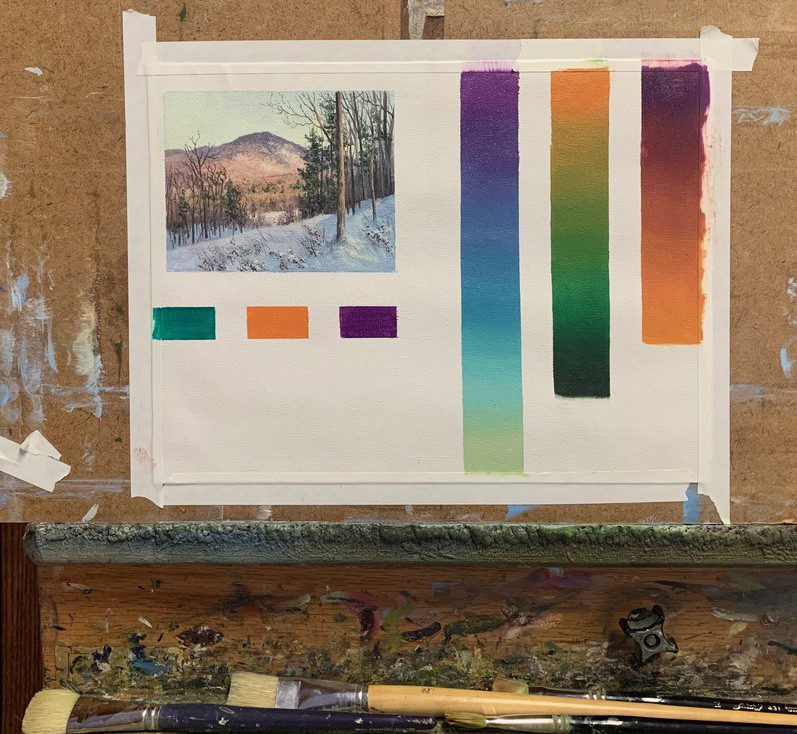 Today's post is treasured landscape artist Andrew Orr sharing the beginning of a painting in Northern Vermont where he lives!! I hope to sell the finished product when it is dry and framed!!!
Andrew shares the following:
In the studio, the past several days, I have been working out some ideas for a new painting of Jay Peak not far from where I live. The snow is starting to fade, though certainly much snow still exists in the higher areas. I am combining two images, along with some sketches which I think will make a better painting. I have also been exploring some color ideas to come up with what I think will be a pleasing palette. I selected Orange, Green Cyan or Blue Green and Violet as my base tones. Once I figure out how those colors will mix, I can add black and white to lighten values, or darken values. The addition of black will also calm the colors down somewhat. My aim is to create a painting where the viewer feels as though they are standing in the colder shadows of a hillside looking out onto the brightly and warmly, lit Jay Peak. I am aiming for a later in the day feeling. The small sketch is a 4 x 5 which I will scale up into a 16 x 20 painting. Not sure I am there yet, but at least the ideas are rolling around.
Hopefully I will have access to the progress of Jay Peak and send to you via the website!
Be well and be responsible. Thank you.
Terry
24 Highland Ave.,
Manchester, Vt. 05255
802-362-3022
www.tilting.com
tilting@tilting.com