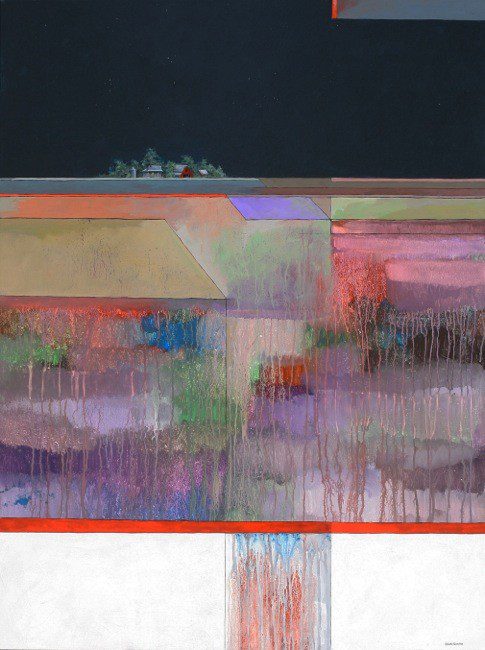 TODAY HONORING DOUG SMITH
Today I wish to share West Coast artist Doug Smith who has in the past few years with Tilting built a large East Coast collector base.
Also feel free to click on following link to see Doug in action!
Bio……………………………….
Born in San Francisco, Doug Smith's artwork is a clear nod to the Bay
Area Figurative Movement that flourished during his midcentury youth. His pieces suggest the aesthetic of Richard Diebenkorn as well as the reassuring rural imagery of American regionalism. This inspiration and his years as a graphic designer/art director, allow Smith
to focus on strong organization, color, balance and texture in his paintings.
Doug combines the exuberance of abstract expressionism and the arresting intimacy of the realistically familiar. Traditional farmhouses and weathered barns punctuate his vast planes that have his key elements of color, line and texture. The compositions evoke enduring themes of the American West including boundless optimism and wistful nostalgia as well as nature's randomness in humankind's ordered domesticity. They suggest the endless agrarian mosaics observed from an airplane and archetypical homestead that mostly appear in memory. Smith's pieces also have moods and emotions that evoke a timelessness and a sense of vast distance and space.
His work has been exhibited at galleries and museums across the United States, including a 2014 solo exhibition at the Desert Caballeros Western Museum in Arizona. In 2013 his work was exhibited along with other American artists at the U.S. Embassy in Moscow. Smith has paintings in the permanent collections of the Rockwell Museum in New York and the Booth Western Art Museum in Georgia. Decades ago, he found this interesting agrarian anonymous quote:
"Man, despite his sophistication and his many accomplishments, owes his existence to a 6-inch layer of top soil and the fact that it rains."
SADLY WE ARE PRESENTLY CLOSED TO VISITORS.
Please call for virtual tours and simple questions.
Thank you and be well.   Terry
Contact Us
Email
tilting@tilting.com
Phone
802-362-3022
Address
24 Highland Ave
Manchester Center, VT 05255