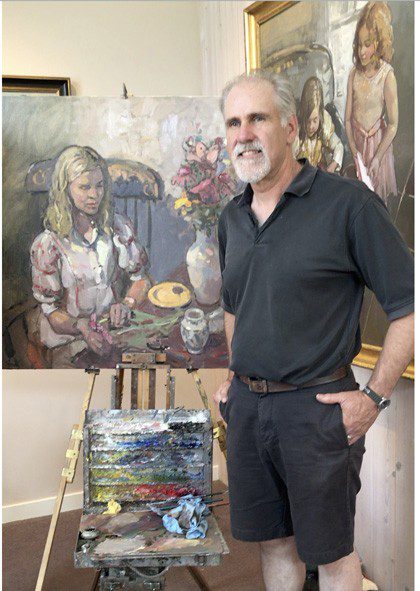 HONORED TODAY IS JOHN TRAYNOR
In July of 2019 John Traynor and Craig Pursley gave a live tutorial on painting a portrait inside Tilting at Windmills Gallery.   In four hours, while answering questions each artist produced amazing results.  I am sharing a video of John painting his wonderful wife and a view of his amazing palette!  Enjoy.
Bio………….
John C. Traynor was born on October 19, 1961.  Traynor spent his early years in Chester and Mendham, New Jersey, attending Delbarton School in Morristown.  He pursued formal arts training at Paier College of Art in New Haven, Connecticut, and figure painting with Frank Mason at the Art Students League of New York.  Traynor continued to study landscape painting in Vermont with Mr. Mason, drawing with Carroll N. Jones Jr. of Stowe, Vermont, and sculpture for one year with Brother Jerome Cox in Florence, Italy.
John spent his early years in Chester and Mendham New Jersey. His art studies began at Delbarton School in Morristown New Jersey; from there he went to Paier College of Art in New Haven Connecticut, startingat the age of 16. He studied figure painting at the Art Students League of New York, as a merit scholar, with Frank Mason, as well as landscape painting with Mason in Vermont. John followed his studies with Mason by spending a year studying sculpture in Italy.
Having completed his studies by the time he was 20 years old, John was determined to become a professional artist. As an unknown artist John started selling his paintings at outdoor art shows, in the Northeast where he was able to meet collectors in person. This exposure opened opportunities with galleries
Traynor has won numerous awards including the Frank Dumont award from the Hudson Valley Art Association and the Medal of Honor from the Salmagundi Club of which he is an honorary member. John was also recently inducted into the Delbarton School Hall of Honors and he has reached the level of Copley Master from the Copley Society of Boston.
John has made numerous painting expeditions to Ireland as well as trips to Holland, Italy, France, Hawaii and many locations across the United States. John currently resides in southern New Hampshire in a quaint New England village with his wife Liz. Their home is surrounded by many gardens that inspire John's paintings.
John is a skilled painter of every genre: landscape, still life and portraiture.  His unique blend of realism and atmospheric impressionism set his work apart. Many people can recognize a "Traynor painting" by its brush strokes and unique feeling. Part of his success is connecting emotionally with others through his work. People are often reminded of moments in their life or memories of the past.
John is inspired by the nature he sees around him whether it is the flowers from his gardens, people in his life or the landscape outdoors. Traynor's interpretation of his subject matter is influenced from artists of the past. His use of light and atmospheric effect are found in many of the old master paintings such as the American tonality painters and the French Impressionist artists. There is a richness and fullness to his work that is 'old world' yet contemporary with his unique style.
John's works are on display in several galleries across North America.
Studio Work – Works of art range from 9 by 12-inch miniatures to 40- by 50-foot murals. Painting outdoors on location is a primary source of inspiration for Traynor's landscapes. Smaller paintings are finished indoors, or used as studies for larger works painted in his studio. Portraits are painted on a commissioned basis in his studio or the home of the person or persons to be portrayed.
SADLY WE ARE PRESENTLY CLOSED TO VISITORS.
Please call for virtual tours and simple questions.
Thank you and be well.   Terry
Contact Us
Email
tilting@tilting.com
Phone
802-362-3022
Address
24 Highland Ave
Manchester Center, VT 05255