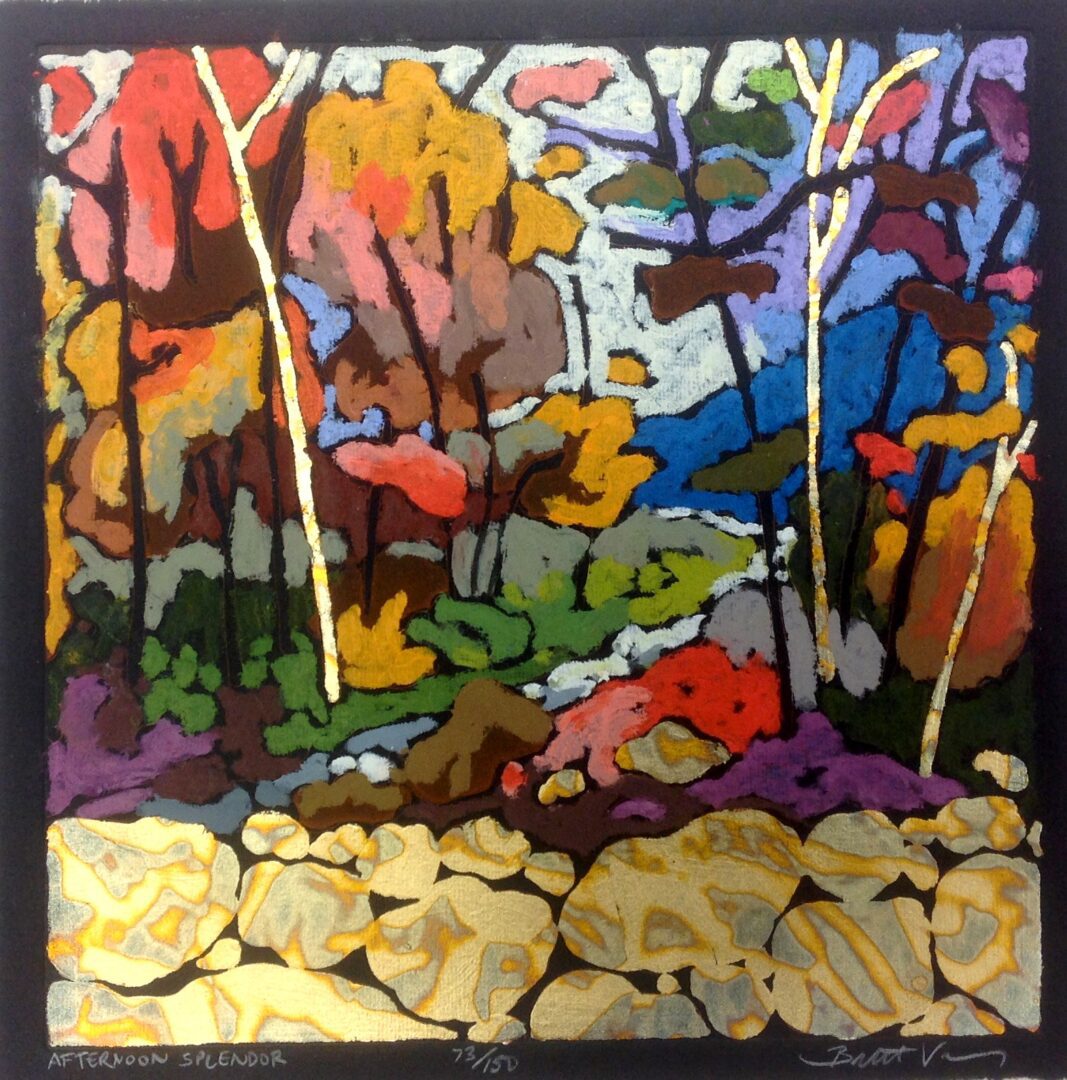 FRIDAY we SALUTE BRETT VARNEY
Brett has been with the gallery for several years and brightened many homes with his happy and colorful mixed media originals. Following is link to his process that is fascinating. Thank you Brett for your creative mind and efforts.
Bio………….
My inspiration is born from the works of the Impressionists and Abstract Expressionists – Think Van Gogh meets Kandinsky at Gustave Klimt's house. I am fascinated by the ability of intense color and texture of line to convey an emotional expression from the artist to the viewer. Working with vivid color oil pastel, I create images that are recognizable to welcome the viewer into the scene.
By using the hand cut metallic leaf on some of my works , I have stepped up the energy level of these pieces with the reflective brilliance that only a metallic surface can provide. I draw because it makes me feel good and energized, and I want the viewer to experience that same energy that inspires me to create. My use of black outlines around the shapes are deliberate and necessary and intend only to define and intensify the emotion of my work. My imagery is taken from my travels and from my mind's eye. I want a finished work that I can proudly say purely represents my vision.
Background
My artistic background begins with illustrating a magazine named "Corny"  in grade 5 – it had a distribution of one, myself. My family and I were involved in the art industry from early on. We sold hand-coloured etchings and pastel drawings by my step-mother to galleries and directly to the public at various arts festivals. After graduation (1988) from the University of Washington in Seattle, where I grew up, I moved to Bellingham WA. My full-time art started there. I originally specialized in original serigraph printmaking. In 1997, I took up oil pastel drawing as my medium of choice and discovered a new freedom of drawing spontaneously versus the meticulously planned out serigraph stencil making and printing.
    In 2007, My partner and I moved North and settled on British Columbia's Sunshine Coast and later were granted Citizenship. The move to BC has been quite inspiring, so much so, that I find that my style shifted slightly more toward a abstracted landscape view. The colours are deeper and the elements of design are more freestyle.
To this day I continue on the family tradition of selling my original art and reproductions directly to the public through juried art festivals in Canada and the US as well as through private galleries and my home studio in Sechelt BC
SADLY WE ARE PRESENTLY CLOSED TO VISITORS.
Please call for virtual tours and simple questions.
Thank you and be well.   Terry
Contact Us
Email
tilting@tilting.com
Phone
802-362-3022
Address
24 Highland Ave
Manchester Center, VT 05255