Full Artist Bio
Cindy Baron Biography
Born in South Bend, Indiana, Cindy now lives in Greenwich, RI where she conducts workshops and gives private lessons in both watercolor and oils. She is a signature member of the American Watercolor Society and a new member of the Salamagundi Club in New York.
Developing an interest in art in her early childhood, her artistic background in drawing led her to watercolors and eventually to oils. She has found that one medium has helped her to grow in the other and vice versa. One of the most asked questions she receives is, "when working on a painting, how do you choose what medium you want to use?" The answer is "nature chooses it for me. I'm blessed to see landscapes in two mediums. When on location I can feel the movement a watercolor can give with its easy flowing and entwining colors, like a foggy morning, or a crashing wave and yet some scenes call for the intensity, depth and lust that only an oil can give. Some would say to concentrate on just one medium but I believe if you are passionate about what you do, express it in the best way you can, you can grow so much if you look at the world through many eyes." Cindy gives credit to an art teacher who took an interest in both her and her brother. She never has forgotten what he so often said to her, "there's no such word as can't." One of her early interests was portraiture, which she still loves today and when an interesting subject is found she does not hesitate to introduce herself and begin work. She uses her studies for the classes she teaches.
Memberships
• American Watercolor Society, Signature Member
• Oil Painters of America, Signature Member
• Rockport Art Association
Museums
• Mystic Maritime Museum
• The Museum of Wildlife, Jackson, Wyoming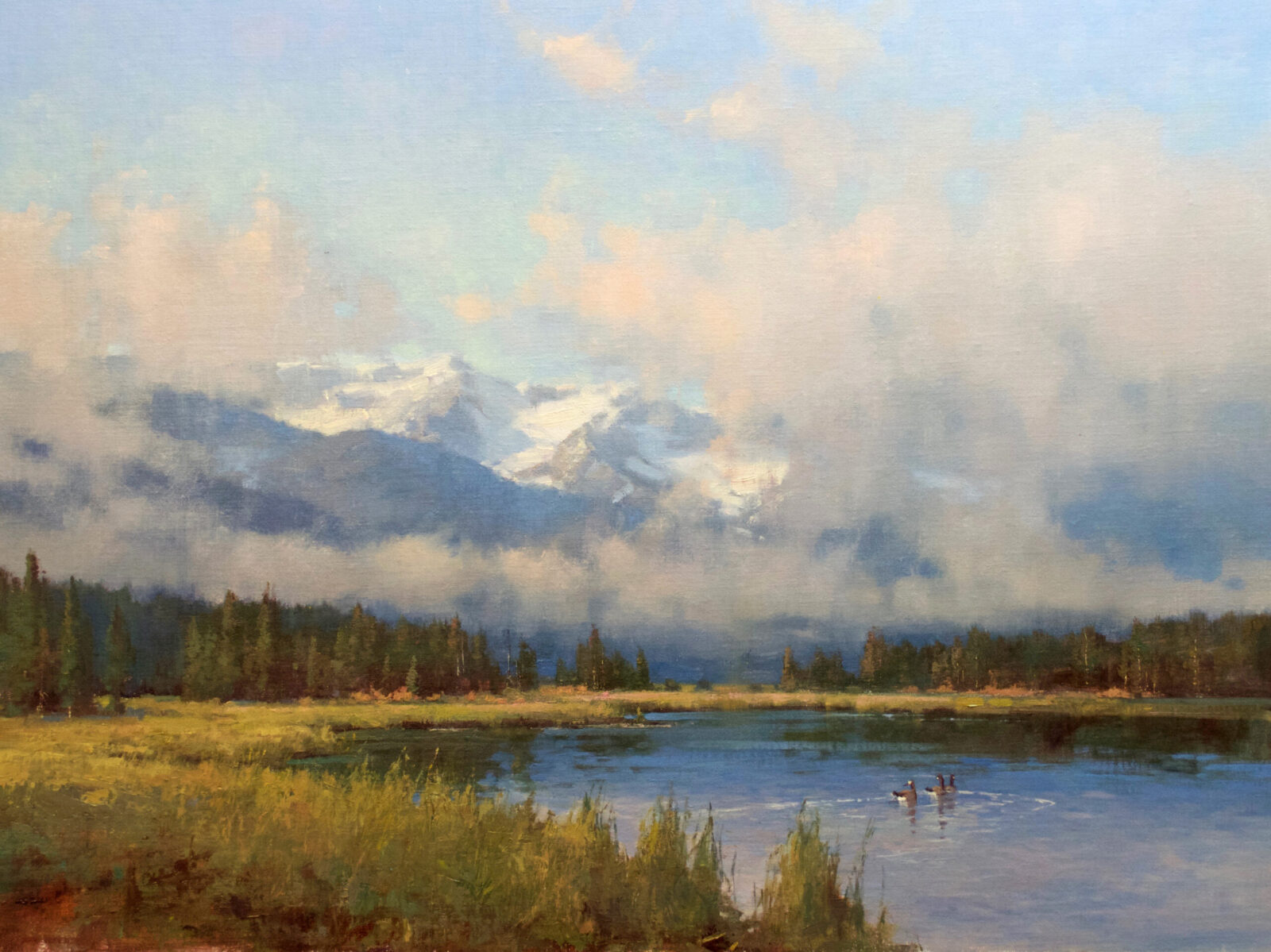 Price: $2800
Medium: Original oil on linen
Size:  18 in. x 24 in.
A beauty in the mountains and a bit chilly for a swim…..but not to look at!!!!