Full Artist Bio
Andrew Orr Biography
The act of painting is about expressing the joy and excitement I feel, through colors and brush strokes, after having come upon a scene that has sparked an internal, emotional response; an internal, declarative response of, "this could be a painting."
Once I have found a subject I will often make sketches in pencil, making notes about colors, atmosphere, light, anything really that will help me remember the experience while I was in the field.  This collection of information will aid me in what I want to convey about the subject as I am painting.  It is of vital importance to me to become as familiar with my subject as possible before heading back into the studio.  In addition to notes, I use a camera, taking many photos of a scene from different angles and viewpoints. Often, in the field, with paints in hand, I will begin color sketches, field studies or smaller paintings but I find I can concentrate much better in the studio setting.  These color sketches however, are potentially the most important element in the process of a larger, more complex work.
In the studio, I will take from my reference materials those elements that I find important to the compositional whole, moving, adding or deleting items that will help to make what feels, to me, to be the best overall picture.   I begin loosely working the entire canvas building the layers of paint slowly.   The process moves in many directions, known and unknown.  Each painting is unique and each section, almost to the square inch, can sometimes require a different approach to create the whole and ultimately, hopefully, the big look of nature on the canvas.  Although, I am primarily a studio painter I strive to create paintings that retain a sense of spontaneity and life often associated with outdoor painting.
As I have painted since 1998, full-time, it is often hard to define what might be some of my artistic goals.  I feel fortunate to have been able to develop a career, over time, selling in galleries and teaching in many locations around the country.  I find that my goals as an artist would be above all, simply to paint better pictures.  I never want to be stuck in any one genre or compositional trap so I find that I am constantly challenging myself to design paintings that are a little more complicated or involved be it compositionally, a color sense, mood or conceptually.  I never want to stop growing.
I create art as part of my desire to help bring something of aesthetic beauty to the world.  My paintings are about joy; about expressing the excitement I feel when I see light falling on an autumnal tree or the beauty of a summer day.  They are about my curiosity and intrigue with objects, old and new; they are about those things that inspire me, that give me a reason to get out each day to see what the world has in store.  It is my hope that the viewer of my work will be inspired by what they see, that through one of my paintings their day might be somehow lifted. In some small way, I hope the viewer will feel some of what I felt when first viewing the subject and, in so doing, receive a glimpse of the poetry of nature.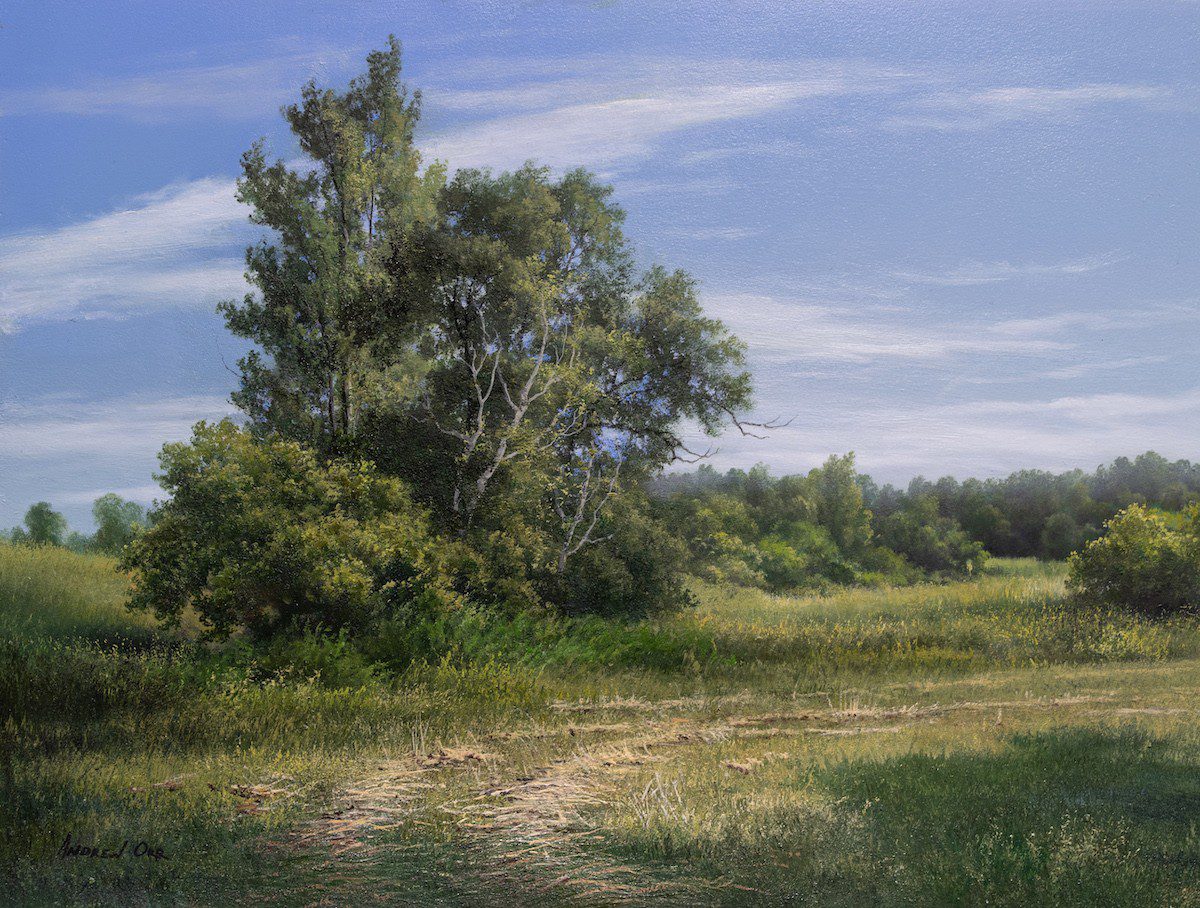 Price: SOLD
Medium: Oil on panel
Size:  9 in. x 12 in.
AVAILABLE…..PLEASE NOTE that most of Andrew's work is sold out! Do you think that is noteworthy? After the First Cut, is a piece that is very typical of a road in the field with bits of hay all over the ground. After having a horse for 36 years I recall the aroma of summer hay, in a field, on the road and in the barn. It is a most reassuring aroma that makes you know that all is well and good for the cold winter ahead. Andrew captures all of that in this 9″ x 12″ painting!!!