Full Artist Bio
Steven Stroud was born and raised in Park Ridge, Illinois, a suburb of Chicago. He holds degrees from Drake University and The Art Center College of Design. He served four years in the U. S. Navy as a graphic artist and photographer.
Mr. Stroud was an illustrator for over twenty-five years and has done covers of countless bestsellers, including those by Isaac Asimov, Stephen King, Clive Cussler, and John Sanford. He has done special editions of works by Pearl Buck, John Cheever, William Faulkner, Joseph Heller, Joyce Carol Oates and William Styron. His many corporate accounts have included NBC, Pepsi Cola, General Electric, UPS, Omega Engineering and the Department of Defense.
He is a past President of the Society of Illustrators and currently serves as a trustee and advisor to the Executive Board of Directors. Mr. Stroud's studio has been host to many student interns and he has lectured at all levels of education. He was the 2010 Commencement Speaker for the Paier College of Art in Hamden, Connecticut. Mr. Stroud is featured in the books The Illustrator in America, by Walter Reed and Knowing Darkness, Artists inspired by Stephen King, by George Beahm.
Mr. Stroud's love of landscape painting led to a second career. For the past ten years he has devoted himself exclusively to gallery painting and landscapes. In that time, he has had numerous highly successful group and one-man shows. His work is in the permanent collection of the Florence Griswold Museum in Old Lyme, Connecticut as well as hundreds of private collections
Mr. Stroud's studio is located in the enormous sky-lit loft of a 135 year-old former factory near the banks of the Housatonic River. He and his wife, Nancy, have lived in Shelton, Connecticut for 33 years. They have two children, Sarah, a staff member with the Insight Meditation Society in Barre, Massachusetts and Michael, former lead guitar with Dashboard Confessional and currently one-half of the band RATATAT.
Tilting at Windmills is pleased to include the works of Steven H. Stroud in our collection of quality artists.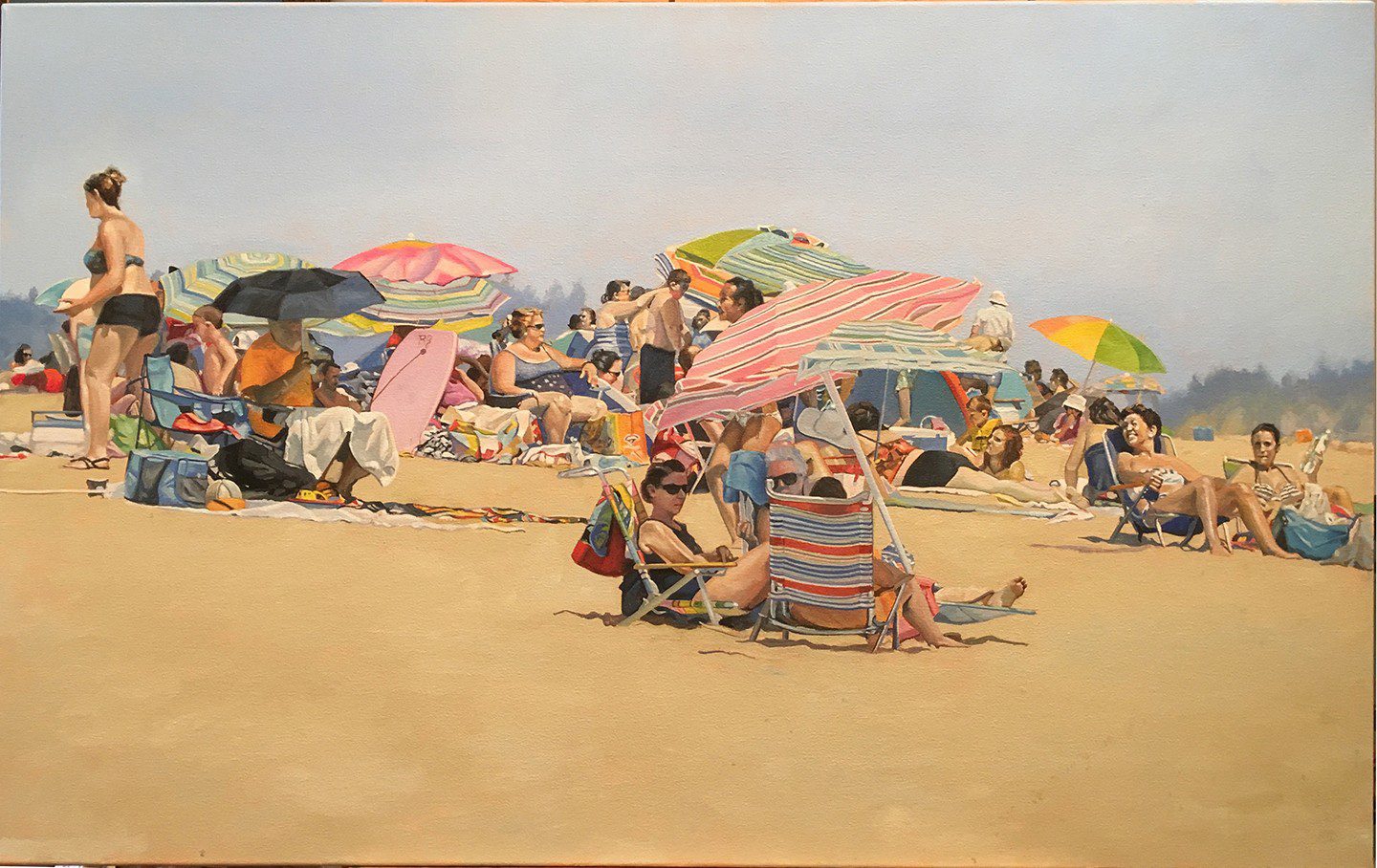 Price:$8500
Medium: Oil on Linen
Size: 30″ x 48″
A "PERFECT" example of the beach life that was prior to summer of 2020. Hopefully, this will be possible again in the future.