Full Artist Bio
Painting images that have been described as "comforting" and "calming", Kathy Partridge is perhaps best known for her equine and canine subjects, but has always included wildlife in her repertoire as well. In recent years, she has begun to expand her depictions to include much more landscape; indeed several of her more recent paintings might best be described as landscapes with an animal accent. "I am constantly amazed by this artistic journey; the way it continues to evolve and take me in new directions," she says.
Utilizing a painting style that some have described as impressionistic realism, Partridge draws her inspiration from the atmospheric fields and rural areas around her home in central New York State as well as her childhood haunts in the Adirondack Mountains of upstate New York. "I've always told my students that you don't find a style, your style will find you. I find myself drifting toward a more relaxed manner of paint handling, rather than my earlier, tight, 'paint every hair' approach. Detail is still important, however, as that's what I see. It's just that as time goes on, I've become better at editing out the unnecessary, and I suspect this will continue as a natural part of the journey."
Partridge's interest in animals and the natural world began during childhood weekends spent at the family camp in the Adirondacks. An important early influence was her father, Bob Partridge, a part-time painter who also focuses on landscape-with-animal-views of the west-central Adirondacks, where he grew up. With her parents' encouragement, she began drawing at the age of five and was entering local shows and winning awards by the time she was in junior high. She graduated from Syracuse University in 1978 with a BFA (Magna cum laude) in Illustration and Selected Studies in Art.
Partridge began painting professionally in 1973 at the age of fifteen, when, due to her love of horses, she was asked to paint several local show horses and ponies. This led to numerous commissioned portraits of hunters, jumpers, Thoroughbreds, Standardbreds as well as some of the top show dogs in the country. After some twenty years of concentrating almost exclusively on commissioned animal portraiture for clients nationwide, Kathy decided to cut back in order to return to exhibiting her work and exploring new directions.
Partridge has exhibited her work throughout the United States, participating in notable shows such as Art of the Animal Kingdom IX at the Bennington Center for the Arts in Vermont and The Equine Spirit at The Wildlife Experience Museum in Parker, Colorado. She has also contributed work to shows at the American Kennel Club Museum of the Dog in St. Louis, Missouri; the International Museum of the Horse in Lexington, Kentucky; the National Sporting Library in Middleburg, Virginia; and Scioto Downs in Columbus, Ohio. In addition, her paintings have been selected for numerous national juried events, including The Art Show at the Dog Show in Wichita, Kansas; and Animals in Art at the Louisiana State University School of Veterinary Medicine.
Partridge's paintings hang in numerous private collections in the United States, as well as Canada, Venezuela, Japan and England. Her art has appeared in Polo Player's Edition, Wildlife Art, Equine Images, Hoof Beats, The Morgan Horse Magazine, Spur, The Golden Retriever Review, the Golden Retriever Club of America's Reflections, and the New York State Conservationist.
The artist is an Associate in the Society of Animal Artists. She is currently represented by Equidae Gallery, Saratoga Springs, NY and Dorset, VT. Selected foxhunt paintings are also available through Cross Gate Gallery, Lexington, KY.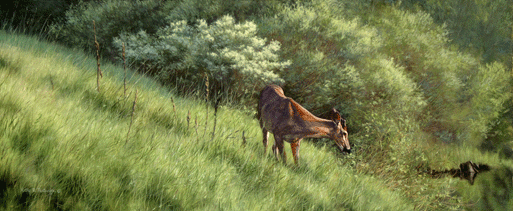 Price: $3000
Medium: Oil on Linen
Size: 18 in. x 36 in.
This is a symbolic view of a doe and beautifully rendered by Kathy who is a member of the Society of Animal Artists.